Business Access Control Systems
Efficiently Manage Access to Your Business with Advanced Control Systems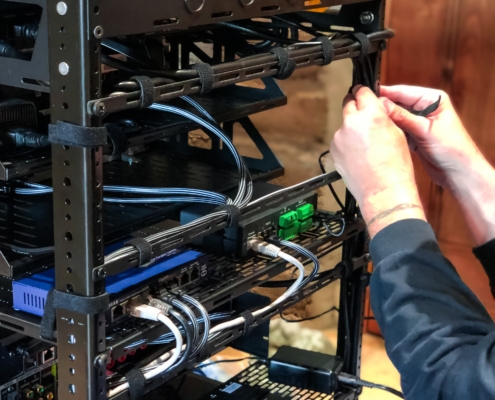 Reach out to our team today!
Halo Sales LLC understands that controlling access to your business premises is crucial for maintaining security and protecting your assets. That's why we offer cutting-edge business access control systems that provide you with enhanced control and peace of mind. Our comprehensive solutions are designed to meet the unique needs of your business.
Why Choose Our Business Access Control Systems?
Robust Security Measures: Our business access control systems employ robust security measures to ensure the highest level of protection. From biometric authentication to smart card readers and keypad entry, we offer a range of advanced technologies that effectively restrict access to authorized personnel only. With our systems in place, you can rest assured that your business is safeguarded against unauthorized entry.

Customized Solutions: We understand that each business has specific access control requirements. Our expert team works closely with you to analyze your needs and tailor a customized access control system. Whether you operate a small office or a large enterprise, we have the expertise to design a solution that aligns with your unique security objectives.

Seamless Integration: Our business access control systems are designed to seamlessly integrate with your existing infrastructure. We ensure that our systems work in harmony with other security components such as surveillance cameras and alarms, providing you with a comprehensive security ecosystem that offers a centralized approach to access management.

Streamlined Operations: Managing access to your business can be time-consuming and complex. Our access control systems simplify the process, allowing you to efficiently manage permissions, track entry and exit, and generate detailed reports. This streamlines your operations and eliminates the need for manual record-keeping, saving you time and effort.

Scalable and Future-Proof: As your business evolves, your access control needs may change. Our systems are scalable and future-proof, enabling you to easily expand or upgrade your access control infrastructure. Whether you need to add more entry points or integrate advanced features, our flexible solutions can adapt to your growing requirements.
Invest in Secure Access Control Today
Don't compromise when it comes to protecting your business. Halo Sales LLC offers reliable, high-quality business access control systems that provide efficient access management and bolster your overall security. Our knowledgeable team will guide you through the selection and installation process, ensuring a seamless experience from start to finish.
Take the first step towards a more secure business environment. Contact us today to discuss your access control needs and discover the perfect solution for your business.